Main Page | Introduction | Help | Layouts | Templates | Categories | Rules
Okay so there are a few templates that are used a lot so we decided to take a moment and explain them here.
This template is used to mark the articles you make as your own.
Go to the page linked in the heading above. Once there, click "Edit" and then copy the information there. Then create a new page and title it Template:Property Username. Put your username after Template:Property. Then paste the coding.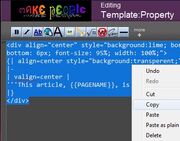 To change the background of the template, look at the top where it says <div align="center" style="background:lime; and change "lime" to the color of your choice.
Make sure to add Category:Your username at the end of the template. This way every article you create using this template will automatically have your username as a category.
This is the template you should use when creating a character.
Use the above link to see the coding used to make an infobox. If you like visual mode better, click "Add other templates" and choose "Infobox character."
To learn more about the character layout see Character Layout.
When you're writing an article and you run out of time to work on it, add this template to show that it's not finished yet and you'll complete it soon.
Community content is available under
CC-BY-SA
unless otherwise noted.